KI In The News
Contract Consulting Group Shares Top Trends from NeoCon 2017
Huffington Post
July 9, 2017

Written by Amanda Schneider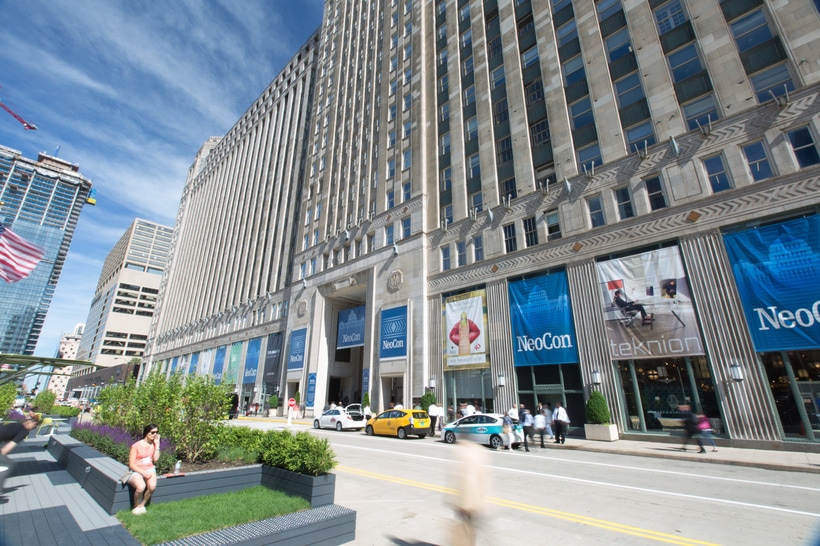 As the "main event" of the industry, NeoCon gives us a glimpse of emerging and evolving trends each year. Contract Consulting Group (CCG), a research-led strategy firm focused exclusively on the contract interiors market, pooled perspectives from an expanding base of talented industry consultants to bring you this summary of top trends at NeoCon 2017. Dubbing ourselves life-long students of the industry, each project, blog post and conversation fuels our insatiable curiosity to learn more and feeds our unique perspective on leading trends. This common passion naturally draws other like-minded talent, and puts the "group" in Contract Consulting. Here are some of the top trends we observed at NeoCon 2017:
Amanda Schneider, CCG Founder, shares perspective on shifting MATERIALITY.
It seemed to be a slow year for product launches overall with the bulk of the excitement being consolidated into a few select showrooms. OFS apparently launched dozens of new products and had the awards to prove it with new products such as Heya. West Elm Workspace, in its quest to "unoffice the office" did not disappoint with its collaboration with Gensler on Conduit, a new workspace line that beautifully executes a newfound balance between "bean bag culture and corporate." Teknion showed amazing attention to detail with its Zones line of easels, storage carts, food trolleys and accessories. All of these had a common theme: a notable shift in materiality.
Now, we have been hearing about the "resimercial" trend for a while (can we get rid of that word already?) but this seemed to be the year that contract furniture embraced the trend in meaningful ways. In a brilliantly simple move, National launched a new stitching detail option available on nearly every product in its showroom that remarkably transforms even the most corporate pouf into a product with a casual, more residential nod.
We saw a notable shift from less veneer to more sophisticated laminates, much more use of plastic (a stool in Coalesse comes to mind with a white plastic top and beautiful wood legs), and there seemed to be several conceptual explorations of new, more cost-effective, softer materials applied. Overall, from clothing choices of attendees to material choices in the furniture, it's clear that contract furniture finally is embracing business casual.
Amy Hill, CCG Workplace Consultant, shares perspective on renewed PRIVACY explorations.
With all the chatter about the effectiveness of the open plan these days, it's no surprise that manufacturers continue to deliver products that address privacy in the workplace. There were a range of solutions introduced at Neocon this year, with manufacturers exploring the boundaries of visual privacy, acoustical privacy, and even some early explorations of perceived privacy.
In the acoustical category, Snowsound's experience room was a true highlight of the show. The company's fiber technology completely deadens sound and reverberation in a space, much like the silence that you experience after a heavy snowfall. The fiber is applied to products that include wall panels, ceiling panels and freestanding space dividing panels.
In the interest of increasing transparency and access to natural light and views, many organizations with open plan environments enclose rooms with glass. In spaces where confidential material may be displayed on monitors during meetings, Casper cloaking film by DesignTex blocks the light emitted by certain LED displays, so that the screen appears blank to passerby. From PET acoustical panels that snap on to a height-adjustable desk (SIS) to completely enclosed booths, there were many products at Neocon that focused on individual privacy. Koleksiyon's Cap offers a private oasis for individuals in the open plan. Manufacturers also are responding to the need for privacy with gallery walls. These thin panels come in a wide range of materials, including laminates, textiles and mesh, and do not offer power or structural support like a panel system does. The sophisticated design of Okamura's muffle system creates privacy at both the individual desk and in collaborative areas. Products like SnapCab and Framery explored new iterations of fully-enclosed pods for one to four people. These pods offer visual, acoustical, individual and team privacy and come complete with ventilation fans, lighting and locking casters for relocation within the open plan. These pods are an ideal solution for workplace environments that already are built out and need a little more private space for employees to be effective.
And lastly, the notion of perceived privacy was one that was explored at the show this year. Indiana Furniture, among others, sought to create a sense of enclosure by introducing permeable space division. These quasi-enclosed spaces also can serve to break up otherwise large swaths of open-plan areas, shaping the neighborhoods around them.
Giselle Walsh, CCG Green Czar, shares perspectives on burgeoning WELLNESS craze.
The sustainability trend at NeoCon has exploded as the definition of sustainability has expanded beyond the building to the workers in the building. The health and well-being of the worker can have a huge bottom-line impact. Therefore, more and more employers are seeking to promote worker movement throughout the day. Standing-height desks have seen quite the evolutions in recent years: from individual workstations to best-of-show winner, Halcon's giant Halo conference room table, we saw height-adjustability applied in new and innovative ways to answer the call of human sustainability.
We also saw much more exploration of seating with meaningful movement. For example, the KI Ruckus chair promotes active seating in an education setting and the Via Motion chair moves more like a balance ball than traditional seating without making the workplace resemble a gym. We also loved the added aspects of HiLo™ perches that address not only the needs of workplace wellness, but also complements it with and the rise of the address-free workplace. This perch supports activity during work by allowing the user to lean/stand and allow for natural shifts in posture.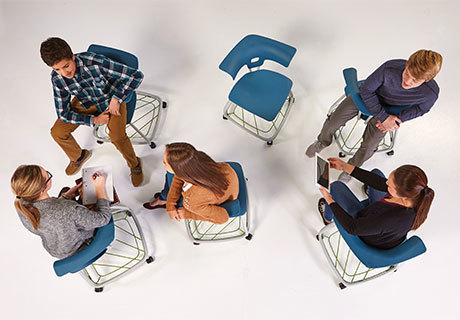 Knowing you have to stand is one thing, but remembering to stand is another. The trend of adding technology to incorporate the wellness goals of user and organization is embedding technology in the desk. Humanscale created intelligent workspace by tracking the user's' activity levels and prompting sit/stand times to optimize activity levels while managing benefits from a dashboard that offers real-time data analysis to manage organizational health and wellness goals. Herman Miller also showed a new tracking concept as have other manufacturers in recent years.
Going one step further in the office environment, employees benefit greatly by tending to their emotional wellness. This theme took shape across the show in the form of casual places for less formal meeting space or time for de-stressing. And options were on display everywhere including a table that literally flickered like a campfire from Coalesse.
CONCLUSION
We'd be remiss if we didn't close by touching on three other key micro-trends including "the Scandinavian Invasion" (C'mon, you ALL saw it; aesthetically and literally), technology explorations (including new explorations in virtual and augmented reality from DIRTT, Allsteel and even Mohawk Group with its Visual Interactive Studio) and a renewed focus on the individual (i.e. more attention to accessories and how the users are interfacing with the product; from purse hooks to photo placement to power access, the industry seems to be focused much less on mass customization, and much more on a personal approach). We heard a rumor from multiple sources that many products were pulled last minute from the show that were *almost* ready. We applaud the manufacturers for showing such self-restraint when products are unlikely to be orderable this year, and eagerly await those intros in 2018.