KI In The News
A Year-Long Study Says Recent Graduates Want Offices Designed Like This

If your employees are stuck in assigned workspaces and can't control how they work, get ready to disassemble the cubicles.
By Wanda Thibodeaux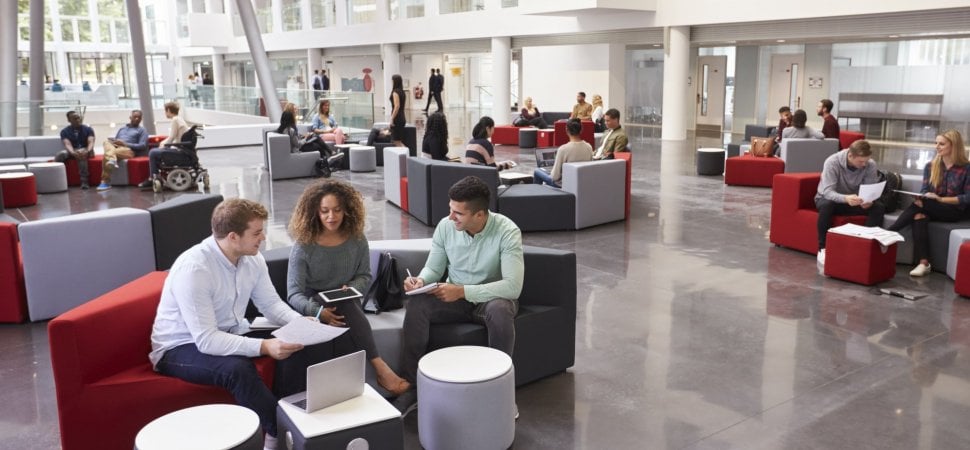 The idea that your environment makes a difference in how you think, act and feel is hardly new. For recent graduates, though, companies largely are missing the mark with their office designs and setups. That's according to research by Jonathan Webb, Vice President of Business Markets at KI, and Brett Shwery, Senior Vice President, Corporate Workplace Design & Delivery Director at AECOM. The pair assert that, if businesses really want to attract, retain and get the most out of recent graduates, companies ought to create spaces fashioned after colleges.
A startling disconnect quantified
To learn more about where companies were getting cues about office design, Webb and Shwery conducted a formal, year-long research study with Fortune 100 companies. Key findings, as detailed in their white paper, include the following:
3 out of 4 companies interviewed agreed that collegiate design could impact the layout of their workspaces, yet organizations are conducting only limited research on what work style preferences recent graduates have. None of the companies interviewed formally had studied the physical collegiate environment to figure out how they could apply it to their offices and recent grads.
89 percent of companies say recently graduated new hires suffer from being "lost in transition." The grads are baffled both by the work styles they're expected to use and the relevance of their physical space. It takes 6 to 12 months on average for the new hires to adjust.
78 percent of businesses don't see similarities between how students complete tasks and how recent grads work in the office.
91 percent of businesses don't see similarities between students' work styles and new hires' work styles.
90 percent of companies have tried to integrate spaces that mimic what's found on campus, but none truly mirror the collegiate environment, instead "force feeding" their concept of what collegiate design is.
Most workplace designs don't respond to what recently hired graduates need. Only 16 percent of interviewed companies try to offer workspaces that accommodate what grads prefer.
In short, students are used to spaces that promote anytime-anywhere work, choosing where and how they complete tasks. They seamlessly connect work, study, technology and social interaction, and they treat areas like lobbies and corridors like personal workspaces as desired. Companies, by contrast, still aren't taking a holistic approach to their office design, continuing to prioritize the personal workspace and dictating when workers have to do their jobs. They use third spaces like lobbies as transition areas where workers can escape from their designated workspace momentarily, not as an active hub workers can take real ownership of. Many companies marvel at the sheer amount of technology students use to multitask.
Why worry at all?
Webb notes that many modern workers (2 out of 3) suffer from disengagement. The problem might be particularly troublesome for new hires who are lost in transition. The more disengaged workers are, the higher the risk is that they will have lower job satisfaction, struggle to provide good yields and leave. He asserts that well-planned workspaces can be a factor in addressing this disengagement, thereby increasing employee morale, retention and productivity.
How to fix it
Understanding that companies don't have a real grasp of how students really work in collegiate environments, Shwery and Webb recommend the following basics to fix the disconnect they uncovered:
Visit campuses (especially ones you hire from) and observe during typical learning activities. Include nontraditional environments and hit campuses that challenge your company in regard to growth, talent, culture and vision. You typically can schedule a tour through the campus admission office (website, phone or email all work).
Create a holistic, authentic plan that incorporates your observations. Remove silos, keep central core concepts in mind and maximize external space.
Implement pilot programs. Support a range of work styles with technology and address how BYOD and imbedded tech converge.
Track metrics like retention, job performance, recruitment rates and worker satisfaction to determine your return on investment.
Because office design can be costly, and because it's natural to resist change to some degree, as you look into modifications, be prepared to take ownership of the process. "This type of change needs to come from the C-level of any organization," Webb says. "At the end of the day, they are the ones that are responsible for the overall success of the organization. And if they have questions about their existing workspace, just have them ask the young workers that already work there!"
Although Webb and Shwery's research applies well to millennials, they note that the design issue isn't merely a millennial one. Workers from all demographics are going back to school and forming expectations based on their time on campus. Keep this in mind as you survey your workforce and decide which colleges to view. And remember--even though there are basic principles or guidelines related to collegiate spaces, there's more than one way to skin a cat. Find a way to adhere to these concepts while still staying true to your individual company's vision, personality and voice and you'll have hit the jackpot.