KI In The News
Workplaces of the Future Defined at NeoCon
Workplaces Magazine
July 2016

By Rob Kirkbride
While you were working, office furniture makers and sellers, interior designers and the folks who create your workplaces gathered last month in Chicago to talk about how you'll work in the future and the products that will make it happen.
Look for the workplace to feel a lot more like home and a lot more connected through technology. It is going to be more comfortable with more lounge furniture and places to chill out. It's also going to be a healthier place with sit-to-stand desks that will remind you to get moving and more desk chairs that keep your back supported during long sessions in front of your computer.
The event is NeoCon, and it is one of the largest gatherings of workplace experts in the world. Held annually at Chicago's cavernous Merchandise Mart, the event outlines trends that will affect the workplace for years to come.
Office furniture makers are taking more chances. Workrite Ergonomics showed its Reveal prototype height-adjustable desk, which looks like a traditional desk in the lowest position, but a sleek modern marvel when raised. The company worked with Gensler, a major interior design firm, on the prototype, said CEO Charlie Lawrence. "For the last 24 years, Workrite has focused on function. Now we are looking at style and design along with function," he said.
Though "specialist" office furniture companies like Workrite and Stir that focus on one or a small number of categories continue to make strides, major companies in the industry also had a strong show. It seems as if office furniture companies have spent the last year refining their offerings - making already good product lines and categories even better. One example is the HON Grove collection. In an industry with a preponderance of oversized and overstuffed lounge products, HON Grove has great size and scale.
Other exhibitors continued to build on trends from past years. Focal Upright Furniture, now a part of Safeco, certainly did start the trend of perching chairs - basically seats with a stick used for leaning against while standing. Knoll is showing its new HiLo seat designed by Box Clever and other examples of the trend abound.
Knoll also joined the trend toward simple residential designs for the office with its stripped down Rockwell Unscripted collection. One showgoer said it looks like it came from IKEA (but with a much higher price tag). We will let the market be the judge of Rockwell Unscripted.
Desk Makers introduced several new "distressed" laminates that give its height-adjustable furniture a much warmer feel. The company also showed it with raw steel legs - another trend found at NeoCon this year, including on West Elm Workplace's Truss line. Many know West Elm from its residential furniture roots.
Showrooms seemed to have taken on the look and feel of home furnishings stores as well. Teknion's gorgeous space certainly had a homey feel, a departure from its stark white look of the past. AIS promoted a chill loft look in its showroom, complete with baristas and folky music. And Neutral Posture's showroom was about as sunny as could be, literally coated with Benjamin Moore's "Sunshine" yellow paint.
While office furniture makers are definitely working to get more residential, the industry is finding some traditionally residential companies are trying to break into the commercial office market. Italian seating maker Calligaris, which has made residential furniture since the 1920s, is working hard to build its commercial business, including a NeoCon showroom. The company counts McDonald's and AT&T as seating customers already.
Individual work pods were the rage this year, "inspired" by Steecases's Brody introduction last year. Teknion showed off its Zones furniture collection by PearsonLloyd, which can be used to create small work or collaborative spaces. KI also showed its MyPlace collection that blurs the lines between lounge, work and personal space.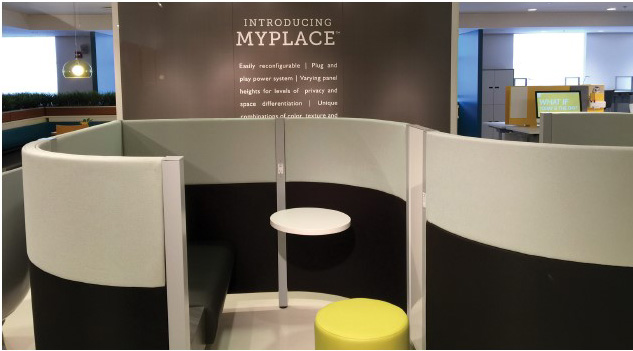 NeoCon 2016 marked the return of the task chair with some important introductions. Haworth's Fern chair, Neutral Posture's Icon and OM's Truly. are truly good, just to name a few.
Thankfully, a few companies also added some playful pieces to the NeoCon 2016 mix. BuzziSpace's BuzziJungle was a fun sculptural element in the lobby and in its showroom, and Clarus Whiteboard had fun with a ping-pong table made from its product. Speaking of jungles, plants and greenery were everywhere at NeoCon, though Vitra's jungle was the most dense.
My how things have changed since that first NeoCon nearly 50 years ago. While the show was once dominated by the industry's majors (all of whom still participate), it has become much more welcoming to smaller companies looking to break into the market. Companies like Stir and Koleksiyon, which started on temporary floors, now occupy permanent showrooms. A seemingly endless stream of newcomers to the industry take their place on the lone remaining temporary floor, including those with new ideas like Metronaps, which was showing a pod designed, as the name suggests, for taking naps at work.