KI In The News
Solving the Workforce Shortage
IndustryWeek
January 26, 2016
When Jamie Williams was choosing a college major a dozen years ago, she had no grand plans for a career in manufacturing. She started out in elementary education, but to pay her way through school she labored on the paint line at KI, a furniture manufacturer in Green Bay, Wis. The job was repetitive-hanging and removing hooks to mount parts for painting-and the plant sweltered in summer, but it paid better than the alternatives, so she stuck it out.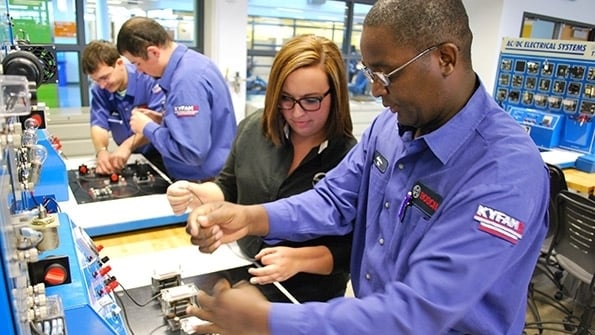 During her freshman year, Williams moved up to one of the table departments, where the work was more involved, "everything from cutting down pieces of tubing to running a robot so that the weld was complete," she says. She mastered reading complex shop reports, and soon, her co-workers sought her out with questions and quandaries.

That's when Williams' come-to-Jesus moment happened: As her responsibility grew, she began to view manufacturing as a vocation rather than a way to earn money until she found a real job. She switched her major at University of Wisconsin-Oshkosh to supply chain and operations management. A college degree and several promotions later, she's a lean process manager at KI. "I just really like this type of work," Williams says. "It's fast- paced. I like to be moving. And always having a goal in mind. "
To fill an expected shortage of 2 million skilled workers over the next decade (according to a 2015 Deloitte/Manufacturing Institute Study), manufacturing needs to convert many more hard-working problem solvers like Williams. Figuring it's unrealistic to expect droves of collegians to simply stumble into their dream job on the shop floor, some manufacturers have decided to make their own workforce hay. The effort doesn't have to be elaborate: as these stories attest, it can begin with one determined person reaching out to schools, local governments and fellow employers to get a pipeline of engaged, well- trained workers up and running.
Mike Hirsch, vice president of operations for passenger car steering systems at Robert Bosch in Florence, Ky., had a tall hill to climb when he started visiting apprenticeship programs in Indiana and the Carolinas, hoping he could start one back home. "We had tremendous growth from 2011 to 2014 and still do," he says of his facility. "We ran out of skilled workforce, essentially, and unfortunately we are not the only ones in the area."
A 2012 Northern Kentucky Industrial Park study found that the tri-county area where Bosch resides has a shortage of 6oo industrial maintenance workers and 2,700 manufacturing operators. Recruiting from out of state didn't go far to fill the gap, nor did companies "stealing people from each other," says Hirsch. At an industty event in 2014, Hirsch learned about KY FAME (Kentucky Federation for Advanced Manufacturing Education), a manufacturing training program started by executives at Toyota's Georgetown, Ky., facility a few years before. For a five-semester apprenticeship, students attend community or technical college two days a week and work three days. They are paid at least $12 an hour to start, with pay going up from there. By the time they graduate as industrial technicians, they are making $25 to $35 an hour.
Hirsch set out to start a chapter of KY FAME in his own region of Northwest Kentucky, pitching the idea to other manufacturers in the area with similar workforce needs. To lay the groundwork, he and colleagues began visiting high schools repeatedly to explain and promote the program, met with parents and hosted open houses.
Last year, the chapter had close to 100 applicants for its first cohort of 24 students. This year, 12 companies will sponsor 27 students. Students need a combined ACT of 22 or higher to apply. They have to write an essay, and go through a detailed interview process where recruiters see "how they react to certain problems."
"This is a start," says Hirsch. "An up-front investment. We of course anticipate, hope and will really push very hard to grow this number so it will at some point satisfy the demand."