KI In The News
Nextep Takes Active Design Seriously
The Business of Furniture
July 27, 2016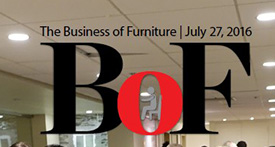 Words by John Q. Horn
Ashleigh Heffernan is one of KI's interior designers. She communicates directly with clients like Nextep, along with KI Vice President of Business Markets Jonathan Webb and Tulsa Region Sales Director Kevin Kashwer.
Nextep made clear what it needed in a reinvented work environment, and KI delivered.
"The CEO really wanted functional design and the ability to change," Heffernan said. "But he wanted a 'wow'! factor that would bring in talent."
For Webb and his team, the key component to active design is mobility among employees. Integral to this concept are sit-stand desktops, a work surface that allows individuals to stand - or sit - for prolonged periods of time while working. It's been a proven benefit among employees in just about every workplace where it's been used.
Nextep embraced the concept and asked KI to take it further. This meant small-group breakout areas; solitary, enclosed individual think pods; and collaborative spaces to fit groups of three to 50. Imagine comfy soft spaces with partial wraparound shielding amid open, natural lighting.
"We created a mock-up for Nextep, let them live with it for a bit, and they loved it," Webb said. "Let that daylight come through and use furniture to enhance employee engagement."
Collaborations like this are a success because clients can convey what they need and design companies like KI can deliver, creating an entirely new space for 55 Nextep employees plus room for expansion.
Nextep sought an environment that fostered talent attraction and retention, while maintaining an ability to modify and adjust as the company grew. KI introduced its Lightline and Genius solutions, a cunning hybrid emphasizing natural light and providing a highly functional and adaptable wall system. Walls are designed to hold tight whichever room configuration one could need or imagine - huge conference rooms for the massive team rallies that fortify a company or individual breakout space for those singular, creative moments that birth the best ideas. Create any conference room space you like, replete with smart furniture, and the Lightline-Genius system enables you to switch room layouts whether the company remains the same size or hires 60 in a new quarter.
"Nextep has exceeded its 10-year growth plan in 2 1/2 years," Heffernan said.
When company decision-makers tailor a work environment with employee and client needs first, that type of hiring surge could be inevitable. Those nuances make a workspace sing. When that happens, morale rockets, productivity soars and work cultures hit a higher plane of function other companies covet.
The adaptability of KI's product helped make that happen.
KI's line is a huge part of the emerging new movement of what people call "the office," although there is very little "office" about any of it these days. The company is committed to the idea that work should not be physically stressful, but rather utilize the space it has to make it comfortable for people, using form and functionality to inspire them. That's why KI introduced a slew of functional business systems, including its Learn2 seating and Sela lounge (those glorious, comfortable soft spaces wired for technology).
For Webb, the result is magnificent. "Active Design creates these elegant spaces for companies that are much more useful," he said.
KI is working with Nextep on the company's next phase of growth. Based in Green Bay, Wisconsin, KI has been in contract furniture design since 1941.