KI In The News
Expert Manufacturing; Exacting Design Highlight KI Doni
Business of Furniture
May 25, 2016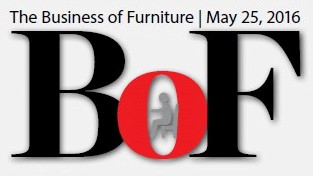 By Rob Kirkbride
KI has always been knows as a rock-solid manufacturer with products that take a beating and stand the test of time. In recent years, it has gained a reputation for its designs as well, launching products that are pleasantly surprising architects and designers.
Its latest product, the Doni chair, blends the best of both design and manufacturing prowess into one of the company's most comprehensive seating collections to date. Designed by long-time KI collaborator Giancarlo Piretti, Doni chairs span the gamut from guest, multi-purpose, stack, tandem, fixed and task to a version that tops the company's Learn2 student chair.
In addition to the multitude of versions available, the Doni collection also comes with a variety of bases. Designers can choose from wire form, a wood four-leg base, four blade and four splayed in addition to KI's normal four leg base.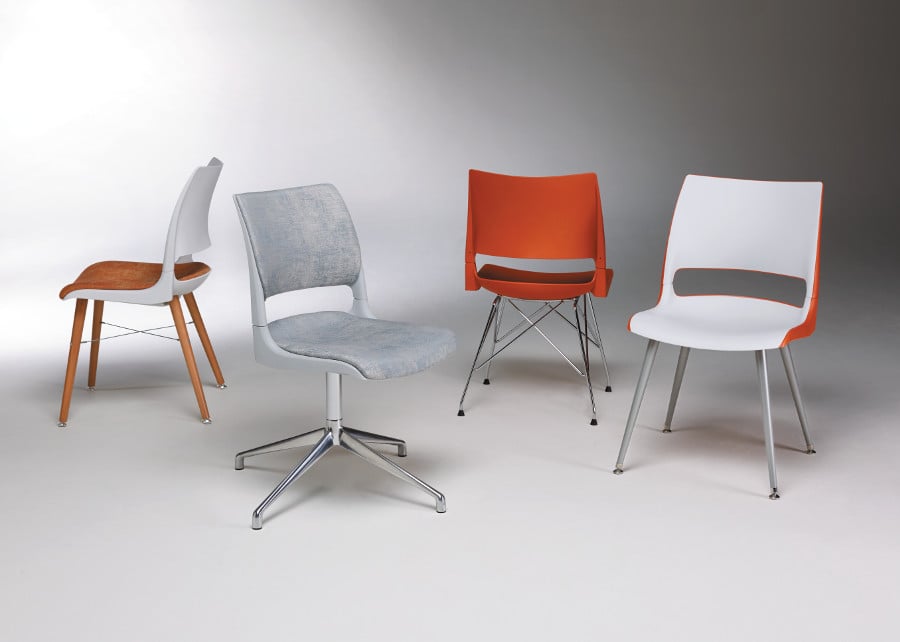 At the risk of getting furniture manufacturing geeky, the Doni is like nothing else on the market. That's because KI is using a specialized injection molding machine that can combine two colors - two-shot injection molding - which gives designers a tremendous amount of design freedom. Doni is available in eight, standard two-color combinations. But the company's sales force is being told to let the design community go wild with just about any custom color combination possible, to extend designers the freedom to create signature pieces.
"A designer can create a custom Doni to match any interiors color scheme," said Leo Welter, vice president of product marketing.
"You can pull a wall color, carpet color or fabric color, and we can do an exact color match here in Green Bay."
Not only does that allow Doni to be integrated perfectly into any interior design scheme, it also allows for some tremendous branding possibilities, especially with KI's standing in the college and university market. KI is No. 1 in the industry in college and university furniture and is in the top four in the K-12 education market.
Doni fits into that expertise because matching school colors is very important. For example, the colors of Indiana University aren't red and white, they are cream and crimson (Pantone 9161 and Pantone 201, to be exact). While that might not sound important, it is to the university and those who specify spaces. With Doni, KI can create a two-toned injection molded seat with the exact colors of a university, school. sports team or corporation. Add the fabric of a seat pad, which is available on some models, and the color combinations are nearly limitless.
"Corporations can take a brand and color scheme, and we can duplicate that in one color or two colors in Doni," Welter said. "That is so important these days. We think that is a big plus. We are really looking to the architecture and design community with this product. We can create one-off signature pieces that can reflect interior color schemes. They are great at providing an accent in a fairly neutral environment. I think the added value will have a strong pull with A&D."
The Doni chair is a major investment for KI, which purchased a specialized injection molding machine that could handle the two-shot process. Still, the company wanted Doni to be a value product with a price point that represents that. Price-wise, Doni sits just above KI's Strive chair, which is its top selling chair. Along with the two-color and custom capability, designer base, price point and high level of comfort, KI believes Doni will be a hit.
The company also hopes the chair will introduce more designers to its custom capabilities. About 20 percent of KI's volume is in custom products. Although the company has done custom colors for years, KI hasn't promoted it to the extent it will with Doni. As KI introduces Doni, it is also promoting its See It Spec It tool at ki.com where designers can place colors on the chair to see how it looks digitally.
The two-color chair line was designed by Piretti, who said the comfort comes from the flexible connection between the seat back and pan. "I tried to find a way to make the chair more comfortable by cutting it in the middle and adding a mechanism that creates movement," he said. "The important thing to me was to put the mechanism inside so you do not see it. To do that, there were problems. I discovered that with the two colors you can cover the mechanism."
Like the KI Grazie chair, Doni uses a hip pivot point to mirror the way the body moves. Piretti did a masterful job of concealing the pivot point in the chair. By looking at Doni, it is nearly impossible to see the articulation point. "When people fell that it actually moves, it seals the deal," Welter said.
It is a simple pivot mechanism, Piretti said, but one that is important to the design of the chair. The elasticity of the material was not enough to get the right movement. He had to find the connection point between the chair back and seat pan where the most flex happens. That is the point where the flex mechanism is hidden in Doni.
The core market for Doni likely will be higher education, a segment where KI is extremely strong already. The majority of Piretti products designed for KI are sold to colleges and universities. "It can be integrated into any application at the university level, whether the dorm, student union or anywhere across campus," Welter said.
Doni also is expected to be a strong seller in the corporate, healthcare and government segments. "Giancarlo is the best in the world at designing value-priced articulating chairs," he said. "Up until now, the only market that has been fortunate enough to benefit from that articulation is the colleges and universities. We believe that the architecture and design community will take Piretti's invention and specify it outside the university market. That is a great thing for those markets. And for us, that is exciting. Doni will be found throughout KI's showroom at NeoCon.